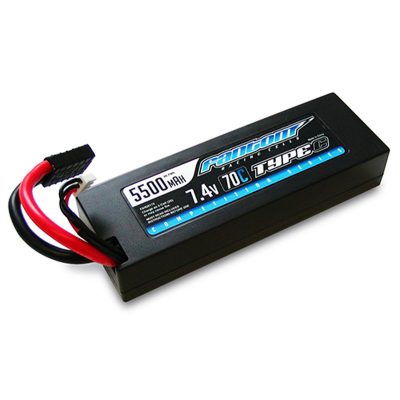 70C-140C COMPETITION SERIES LiPo – 5500mAh, 7.4v, 2-Cell, Traxxas Connector
Regular Price $65.99 excl. tax
Click "details" above for more info…
In stock
Description
70C-140C, 5500mAh, 7.4v, 2-cell COMPETITION SERIES LiPo – Traxxas® Connector
Developed for the weekend racer seeking a high-performance battery that won't break the bank, our COMPETITION SERIES batteries are just the ticket for high-level club racing!  Produced with premium grade materials (mostly from Japan) and with the latest state-of-the-art manufacturing processes, most companies would call this a Professional Grade battery…we just call it a great battery at a great price!
SPECIFICATIONS:
Capacity: 5500mAh
40.70Wh
Voltage: 2-Cell (2S), 7.4V
C-Rate: 70C (Continuous) – 140C (Burst)
Dimensions: (L) 139mm x (W) 47mm x (H) 25mm
Weight: 264 grams
Connector Type: Traxxas®
Balance Connector: JST-XH
FEATURES:
Simply the best competition level battery you can buy in its class!
Exceptional quality, performance and value!
Manufactured by the most advanced R/C LiPo battery manufacturer in the world, utilizing state-of-the-art chemistry and manufacturing techniques!
Produced with premium Japanese materials!
Available in all popular configurations! Wire leads feature high-amp 10-gauge wire and Traxxas® connector.
Includes detailed instruction sheet
ROAR APPROVED
RECOMMENDED ACCESSORIES:
If you are using a charger with an Align / JST XH balance board (most chargers), we recommend using one of these balance adapters: FAN26118 (your choice of the connector), FAN26119 (Traxxas® connector), FAN26120 (Deans® connector)
Additional information
| | |
| --- | --- |
| Weight | 10 oz |
| Dimensions | 7 × 2.5 × 1.5 in |
Only logged in customers who have purchased this product may leave a review.